Source:本站Final update:2023-01-10 19:12:52 Author:佚名 Browse:19second
QatarEnergy has announced the Final Investment Decision (FID) with Chevron Phillips Chemical Company (CPChem) to build the Ras Laffan Petrochemicals complex – a $6bn integrated olefins and polyethylene facility at Ras Laffan Industrial City.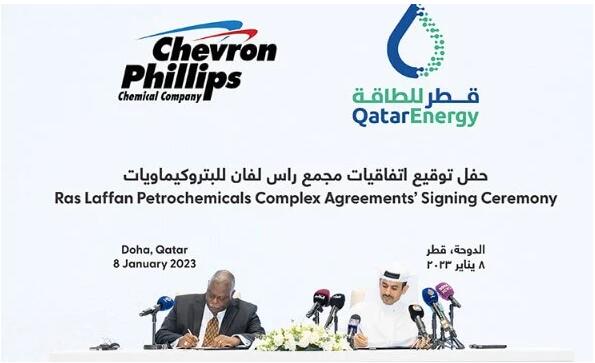 The complex, expected to begin production in 2026, consists of an ethane cracker with a capacity of 2.1m tonnes of ethylene per year, making it the largest in the Middle East and one of the largest globally. It also includes two polyethylene trains with a combined output of 1.7 million tonnes per annum (Mtpa) of High-Density Polyethylene (HDPE) polymer products, raising Qatar's overall petrochemical production capacity to almost 14 Mtpa.
QatarEnergy also announced the award of the engineering, procurement, and construction (EPC) contract for the ethylene plant to SCJV, a joint venture company between Samsung Engineering Company of South Korea and CTCI of Taiwan. The EPC contract for the polyethylene plant was awarded to Maire Tecnimont of Italy, while Emerson of the USA was awarded the main automation contract.
HE Saad Sherida Al-Kaabi, Minister of State for Energy Affairs, the President and CEO of QatarEnergy, and Bruce Chinn, President and CEO of Chevron Phillips Chemical, signed the agreement for a joint venture company to implement the project, in which QatarEnergy will own a 70% equity share, and CPChem will own a 30% share.
Al-Kaabi said: "This marks QatarEnergy's largest investment ever in Qatar's petrochemicals sector and the first direct investment in 12 years. It will double our ethylene production capacity, and increase our local polymer production from 2.6 to more than 4 Mtpa, and place the utmost emphasis on sustainable growth and the environment."
He added there was no doubt that this 'cornerstone investment' marks an important milestone in QatarEnergy's downstream expansion strategy, not only facilitating further expansion in the downstream and petrochemical sectors in Qatar, but also reinforcing its integrated position as a major global player in the upstream, LNG, and downstream sectors.
"This will be further enhanced once the new world-scale petrochemical project in Orange, Texas, in the United States of America comes online in partnership with Chevron Phillips Chemical, executed by our joint venture Golden Triangle Polymers Company," he said.
The FID comes less than two months after QatarEnergy and Chevron Phillips Chemical took the FID to execute the $8.5bn Golden Triangle Polymers Plant on the US Gulf Coast in Texas.
Last month QatarEnergy, in a consortium with TotalEnergies and Petronas, was awarded the Agua-Marinha Production Sharing Contract (PSC), under the 1st Cycle Permanent Offer round, by Brazil's National Agency of Petroleum, Natural Gas, and Biofuels (ANP). Under the terms of the PSC and associated agreements, QatarEnergy will hold a 20% working interest, alongside the operator Petrobras (30%), TotalEnergies (30%) and Petronas PetroleoBrasil (20%).